The presentation of the 2022 SILMO D'Or was held in Paris last night (24 September), with the winners across multiple categories announced to an excited crowd of SILMO attendees.
Among the award recipients was Australia's own Grant Hannaford, who was presented the International Optician of the Year Award for his important role in the optical business, and excellence in professionalism, communication, innovation, specialisation and advocacy.
Among the award recipients was Australia's own Grant Hannaford, who was presented the International Optician of the Year Award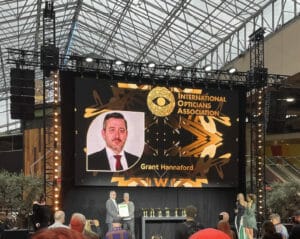 "I've tried my absolute best in my career to deliver education, and have been lucky enough to work overseas and provide aide work," said Mr Hannaford.
Mr Hannaford said his interest in aide work began in 2001 when he was working out who he was and what he wanted to achieve as an optician. After taking a punt on an opportunity that arose, Mr Hannaford found himself involved in the delivery of eye care, both in Nepal and Mongolia where he, and his wife Thao, delivered free eye testing and spectacles to thousands of patients.
Speaking of the significance of receiving the award, Mr Hannaford said, "It's a very strange feeling, all the mistakes and successes and everything that we've learnt has all culminated in this one moment. But it's not just me, it's my wife, it's my family, it's my teachers."
In recognition of quality design, Kirk & Kirk received the SILMO D'Or in the Eyewear Designer category, for their frame Thor, in Citrus, a stand-out model in the new Centiles collection.
Jason Kirk, CEO at Kirk & Kirk, referred to the frame as his favourite of the collection, saying "it's original, it's unique, it has a sense of retro to it, without being a classic copy of an old frame. It's got a suggestion of flavour of the 80s which is why I really like it. You could describe it as post-modern. It's new, it's fresh but, at the same time, there are hints of the past in there," Mr Kirk told mivision.
In the Technical Innovation in Connected Products category, Skugga Technology was recognised for their 'smart' eyewear technology, set to revolutionise the future of eyewear.
"The idea is to introduce the technology into almost any shaped eyewear, so that eyewear manufacturers can use their ordinary production methods to create smart eyewear. An app connects to the eyewear and then starts gathering data by monitoring the wearers sensors," said Daniel Ericsson, Skugga Chief Technology Officer.
From tracking your golf swing and your jog, to security features such as a fall detection alarm and drowsiness indicator for when driving, the technology can support many aspects of a patient's life by acting as a sixth sense.
Mr Ericsson explained the benefit of the environmental sensors to an Australian market, where the importance of protection against harmful UV rays is paramount.
"We are pretty much the first company who can say for sure what you're being exposed to during the day – UV radiation, pressure, humidity, carbon dioxide, air pollution. For Australians, protecting your skin from the sun is a major concern, and this technology can alert you to dangerous exposure and the need for sun-cream application," Mr Ericsson told mivision.
To shine a spotlight on the industry's up and coming talents, the 2022 Concours Design Optics award, also presented on the Saturday, sought to champion the designers of the future.
Adi Abramov's green modular concept frame – Unfoldable – was the competition winner. Mr Abramov said environmental sustainability was an "intense point of consideration" when designing this contemporary, entirely 3D-printed frame.
The frame's minimalistic design allows for a simple manufacturing process which negates the excessive use of materials and reduces the industrial line process. There are no hinges or screws, and the glasses are made using recycled SLA.
Other Award Recipients
Children: Odette Lunettes with Cadet 1
Sport: OUT OF with Bot with IRID lenses
Vision: Shamir with Shamir Metaform
Low Vision: Voxiweb with VoxiVision
Optical Frame – Brands & Labels: De Rigo with Philipp Plein VPP081
Sunglasses – Brands & Labels: ADCL with CL5108 134 – Christian Lacroix
Technological Innovation in Eyewear: Phibo Eyewear x So'Class with 1.618 O
Sunglasses – Designer Eyewear: Masahiro Maruyama with Kintsugi MM-0078
Success Celebrated
The evening concluded with champagne and music, as SILMO D'Or winners celebrated their achievements alongside industry friends and the wider SILMO community.